Gigs
What's New
My most recent - and probably final - hand / arm surgery was March 15.
I'm back - playing bass. I'm planning my next recording and am back gigging.
Sunday, July 10, 4:30 PM - 7:30 PM
Jinx Jones and the King Tones - rockabilly, country, surf
The Surf Spot
http://www.surfspoteats.com/
4627 Coast Hwy, Pacifica, CA 94044

I've not played here or been here before, so I don't know much about it. Jinx will be leading the band, with Bernadette Cordova-Gardella on drums.

Friday, July 15, 8:30 PM to 11 PM
Jinx Jones and the Jazzabilly Allstars - rockabilly, country, surf, and some jazz
Speisekammer - German restaurant and bar
2424 Lincoln, Ave, Alameda, CA 94501 (near Park)
510-522-1300
no cover, all ages - restaurant/bar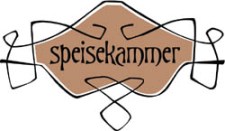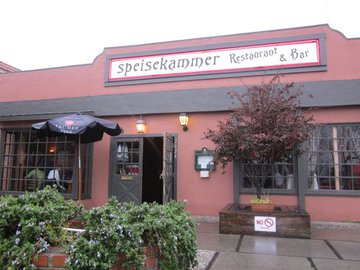 Speisekammer has really good German food, a great beer selection, a full bar, and has a hopping music scene.
I often go here on my own time and dime - for the food, the beer, and the caliber of bands.
Here's a review of one of our gigs there.

If you want to hear the band I strongly recommend reservations - specifying your seating preference near the band - or sit at the bar.

Sunday, July 17, 11 AM - 3 PM
Kurt Ribak Duo (featuring Greg Sankovich, keyboards)
The Terrace Room
http://www.theterraceroom.com
1800 Madison St., Oakland, CA (by Lake Merritt)

This is our first time here. I've played here in the past with Faye Kelly and others, but it's been quite a while.
It's a great room - lots of glass and a great location. The brunch menu is here. This will just be me and Greg.

Saturday, July 23, 7:00 PM - 10:00 PM
Jinx Jones Jazz Trio - Jazz Guitar
Cafe Claude - French Bistro
7 Claude Lane, San Francisco, CA 94108
cafeclaude@claudelane.com / 415.392.3505
no cover, all ages - restaurant/bar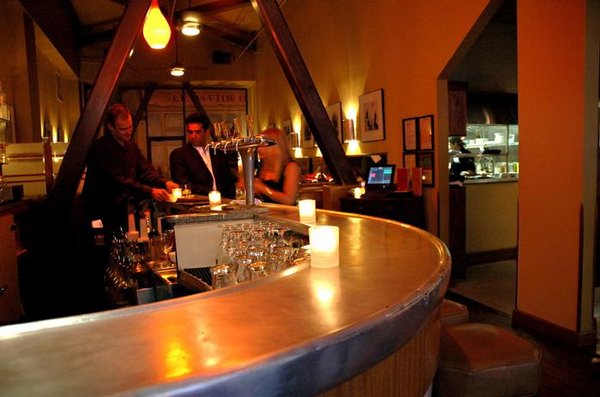 I'll be playing a jazz trio gig with guitarist Jinx Jones. Jinx will be playing jazz standards, with an emphasis on the tunes played by jazz guitar greats Charlie Christian, Wes Montgomery, and Kenny Burrell. Cafe Claude has a small zinc bar (the bar is pretty much the only place you can see the band) and really good French food.

Cafe Claude is on an alley running parallel to and one block west ("uphill") from Kearney, between Bush and Sutter, in the Financial District.

Sunday, July 24, 9 PM to 11 PM - (approximate hours)
Jinx Jones and the King Tones
Winter's Tavern - (dive bar)
http://www.winterstavern.com
1522 Francisco Blvd
Pacifica CA 94044
I have very little info about this place. It's an old dive bar that books some surf music, as well as other styles.
This will be one of those gigs where there will be three bands playing in the course of the evening.
I don't know when in the course of the evening we will be on. But if you're in the Pacifica area and looking for cheap fun, this could fill the bill.

Thursday, July 28, 8 PM - 10 PM
Kurt Ribak Trio - Original Jazz
ěl Beer Cafe and Bottle Shop
http://www.beer-shop.org/
1541 Giammona Drive, Walnut Creek, CA 94596
(925) 210-1147
No cover, 21+ only
ěl is the Danish word for beer. This is a great place for the serious beer geek and for the more casual beer drinker - like me.
On the outside it's an anonymous modern commercial building. Step inside and you feel like you're in a totally different place
- someplace like the Pelican Inn near Muir Woods, or an old North European pub.

ěl just received Diablo Magazine's "Best of the East Bay" award for "Best Beer Bar."

They have a little bit of food, but don't expect to eat dinner here.

This time the band will be Tom Griesser on clarinet and saxophone and Robin Lewis on guitar.

Saturday, July 30, 8 PM to 10-ish PM - doors open 7:30 PM
Kurt Ribak - Original Jazz
http://www.armandosmartinez.com/
707 Marina Vista , Martinez, CA
21 and over only
cash only
$15 cover
no required drink minimum


This will be a great show! It'll be a great band at a favorite venue!
Kurt
on upright,
Greg Sankovich
keyboards,
Lincoln Adler
sax,
Michaelle Goerlitz
percussion.
Armando's is one of my favorite places to play and to hear other musicians. It's a great room - the acoustics are excellent, they have a good sound system with good people running it, and vibe of the room itself is cool. Plus the folks who run it,
Roy Jeans
and
Eloise Cotton
, are among my favorite people. They're keeping a great scene alive.
People sometimes think Martinez is too far away, but it's a heckuva lot quicker to get
door to door
from a place in Oakland
to Armando's
than it is to drive into San Francisco, look for parking etc. Plus Martinez is a charming and historic town.
Buy the CD online - or buy downloads!
videos
Kurt Ribak Live - videos from Kurt's May 26, 2015 Yoshi's show

Check out Kurt's YouTube channel for more videos

Video interviews of Kurt Ribak
These video interviews were made by Lincoln Adler - www.LincolnAdler.com. Lincoln plays with us often and is the saxophonist of Times 4, the jazz-funk group Greg Sankovich also plays in.

"...KURT'S ability to take you on a journey from the deepest waters of the Caribbean to the funky alleys of the urban jungle in one listening makes him a truly gifted original in my book." - Chris Cortez, Announcer, KCSM-FM

Gig Mailing List
To join my mailing list, you are welcome to click on SubscribeGiglist and include the address where you want to receive the mail in the body of the message. You are encouraged to mention how you heard of me.
To get off the mailing list, just click UnsubscribeGiglist and include the address you want dropped from the mailing list in the body of the message.


site map page