Gigs
I had another surgery in early February, and am recovering presently. I expect to be back playing in late March. I expect at least one more surgery some time in the future.
Upcoming Recording Release

We're gonna have a new recording out by May 2015 - and it's gonna be good. The recording includes

Greg Sankovich, Ross Wilson, Lincoln Adler, Alan Hall,

and

Michaelle Goerlitz.

Guests are

Tony Marcus, Jinx Jones,

and

Jeff Cressman

.



Notes on the

R

ecording


I've got links to notes about the record written by

Lee Hildebrand

and

Scott Yanow

. The short notes by Hildebrand are here. Longer notes by Hildebrand (as appear on the CD packaging itself) are here, and a longer article by Scott Yanow is here. All are quick reads, though.


Kurt Ribak interviewed on KCSM-FM
I will be on KCSM- 91.1 FM

Thursday, May 21

at

9 AM

. I will be interviewed by

Alisa Clancy

on KCSM's "

Morning Cup of Jazz.

" I'll be trying to wake up and wake up the rest of you who tune in. I always enjoy interviews on KCSM.

You can also listen over the web by going to KCSM- 91.1 FM or getting the KCSM-FM app.
CD Release Party
Back to Oakland! We will play a CD release party at

Yoshi's Oakland

on May 26, performing songs from the new album.

Kurt Ribak -

"I Got One More!"

CD release party
Tues., May 26 - 8 PM
Yoshi's Oakland
http://www.yoshis.com

510 Embarcadero West
Jack London Square
Oakland, CA 94607
Phone: 510.238.9200
Cover - $17.00
I just finished mastering my next CD, titled "I Got One More!" - recorded in 2014. Featured on the recording are:
Greg Sankovich, piano, Hammond organ, Fender Rhodes
Lincoln Adler, tenor and alto sax
Ross Wilson, trumpet, trombone, flugelhorn
Alan Hall, drums
Michaelle Goerlitz, percussion
Kurt Ribak, electric and upright bass, vocals
featured guests on the recording are:
Jinx Jones, electric guitar
Tony Marcus, rhythm guitar
Jeff Cressman, trombone

We should have almost everybody from the record playing the show. We will sell the new CD at the Yoshi's show for a special low price.

When ticket sales for the show go live I will post a link.

This show has been a long time coming. We filled Yoshi's in 2009, 2010, and 2011. In 2012 I was going to focus on our next record. Instead I've spent every day since June 19, 2012 working on my recovery. This show is a very big deal to me. Getting back onstage at Yoshi's, leading my band, has been the goal I've set my eyes on since the injury.

Kurt Ribak Trio Merchandise
You can buy the
Kurt Ribak Trio
CDs:
>online at
CDBaby
or by the download there, on iTunes,
emusic.com
, and all the other usual online sources
>at The Groove Yard in Oakland at 5555 Claremont in Oakland,
>at Down Home Music, 10341 San Pablo Avenue, El Cerrito, CA.
Buy the CD online - or buy downloads!
CD sales in Japan
Disk Union, a prominent jazz label in Japan, licensed the track "Tango Para Mi Padre" from our CD
"gone."
They licensed the track "Prima," from the
"more" CD by the Kurt Ribak Trio
. We are also included in their
"Jazz Bar 2008"
recording, a compilation of recent jazz recordings. The track "
Pseudoafrocubanismo
" from our debut CD ("
Kurt Ribak Trio
" - three fingers cover) was included in "
Jazz Bar 2007
," which has been selling well in Japan.
Our newest CD, "gone" has been selling especially well in Japan.

videos

Video interview of Kurt Ribak
This video interview was made by Lincoln Adler - www.LincolnAdler.com. Lincoln plays with us often and is the saxophonist of Times 4, the jazz-funk group Greg Sankovich also plays in.

Kurt Ribak Trio at Yoshi's San Francisco - June 30, 2009
The poster below was done by

Maurice Tani

, who also leads the country group

77 El Deora

.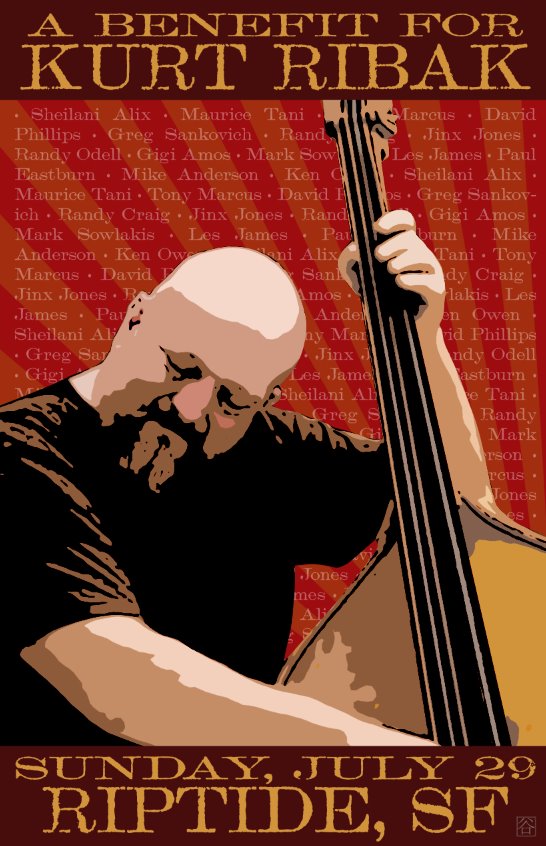 "...KURT'S ability to take you on a journey from the deepest waters of the Caribbean to the funky alleys of the urban jungle in one listening makes him a truly gifted original in my book."
Chris Cortez, KCSM FM

Gig Mailing List
To join my mailing list, you are welcome to click on SubscribeGiglist and include the address where you want to receive the mail in the body of the message. You are encouraged to mention how you heard of me.>
To get off the mailing list, just click UnsubscribeGiglist and include the address you want dropped from the mailing list in the body of the message.

site map page