The recording musicians are
Greg Sankovich, Ross Wilson, Lincoln Adler, Alan Hall,
Michaelle Goerlitz, Myles Boisen, and Russ Gold.

Go here

for a list of Kurt's gigs

.
You can buy
Kurt Ribak
's recordings:
At CDBaby or by the download there, on iTunes, emusic.com, Spotify, and all the other usual online sources.
At The Groove Yard in Oakland at 5555 Claremont in Oakland
At Down Home Music, 10341 San Pablo Avenue, El Cerrito, CA
At Bird & Beckett Books & Records, 653 Chenery, San Francisco, CA videos - we have a YouTube Channel

Performances, interviews of Kurt Ribak
These video interviews were made by Lincoln Adler - www.LincolnAdler.com. Lincoln plays with us often and is the saxophonist of Times 4, the jazz-funk group Greg Sankovich also plays in.

Kurt Ribak Trio at Yoshi's San Francisco - June 30, 2009
The poster below was done by

Maurice Tani

, who also leads the country group

77 El Deora

.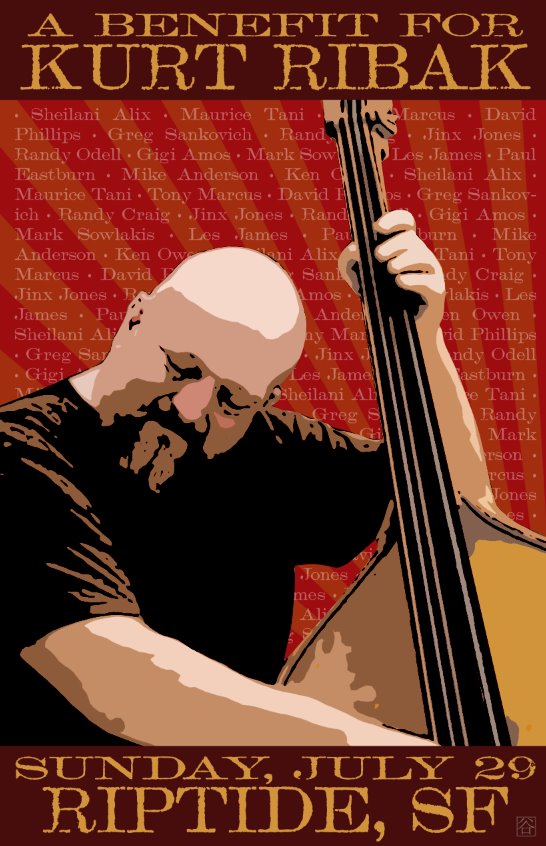 "...KURT'S ability to take you on a journey from the deepest waters of the Caribbean to the funky alleys of the urban jungle in one listening makes him a truly gifted original in my book."
Chris Cortez, KCSM FM

Gig Mailing List
To join my mailing list, you are welcome to click on SubscribeGiglist and include the address where you want to receive the mail in the body of the message. You are encouraged to mention how you heard of me.>
To get off the mailing list, just click UnsubscribeGiglist and include the address you want dropped from the mailing list in the body of the message.

site map page