I Got One More!

You can buy

"I Got One More!"

by Kurt Ribak at

CDBaby.

You can buy physical CDs or downloads,including higher-quality mp3s or FLAC files. You can also download at

iTunes

or

emusic

. You can also buy it at a

brick-and-mortar independent

record stores, namely

The Groove Yard

in Oakland at 5555 Claremont in Oakland, and
at Bird & Beckett Books & Records , 653 Chenery, San Francisco, CA.



The recording includes

Greg Sankovich, Ross Wilson, Lincoln Adler, Alan Hall,

and

Michaelle Goerlitz.

Guests are

Tony Marcus, Jinx Jones,

and

Jeff Cressman

.



I've got links to notes about the record written by

Lee Hildebrand

and

Scott Yanow

. The short notes by Hildebrand are

here

. Longer notes by Hildebrand (as appear on the CD packaging itself) are

here

, and a longer article by Scott Yanow is

here

. All are quick reads, though.



Buy the CD online - or buy downloads!
Kurt Ribak recording release party at the Freight & Salvage - http://thefreight.org - in Berkeley - May 2018
Kurt Ribak - Record Release Concert
Mon., May 7
Two sets, starting at 8 PM


Freight & Salvage Coffeehouse



http://www.thefreight.org
2020 Addison Street, Berkeley, CA 94704
all ages
Tix are $16 advance, $20 at the door.
You can get
tickets
here
- or at the box office at 2020 Addison.
My group will celebrate the release of our next recording, "
onward
," at one of the very finest venues in the Bay Area. It will be our biggest Bay Area show since Yoshi's back in 2015.
Ink about Kurt
5/12/2015 Brian McCoy interview of Kurt Ribak on examiner.com

Go here

for a list of Kurt's gigs

.

You can buy
Kurt Ribak
's recordings:
At CDBaby or by the download there, on iTunes, emusic.com, and all the other usual online sources
At The Groove Yard in Oakland at 5555 Claremont in Oakland,
At Down Home Music, 10341 San Pablo Avenue, El Cerrito, CA.
At Bird & Beckett Books & Records , 653 Chenery, San Francisco, CA videos - we have a YouTube Channel

Performances, interviews of Kurt Ribak
These video interviews were made by Lincoln Adler - www.LincolnAdler.com. Lincoln plays with us often and is the saxophonist of Times 4, the jazz-funk group Greg Sankovich also plays in.

Kurt Ribak Trio at Yoshi's San Francisco - June 30, 2009
The poster below was done by

Maurice Tani

, who also leads the country group

77 El Deora

.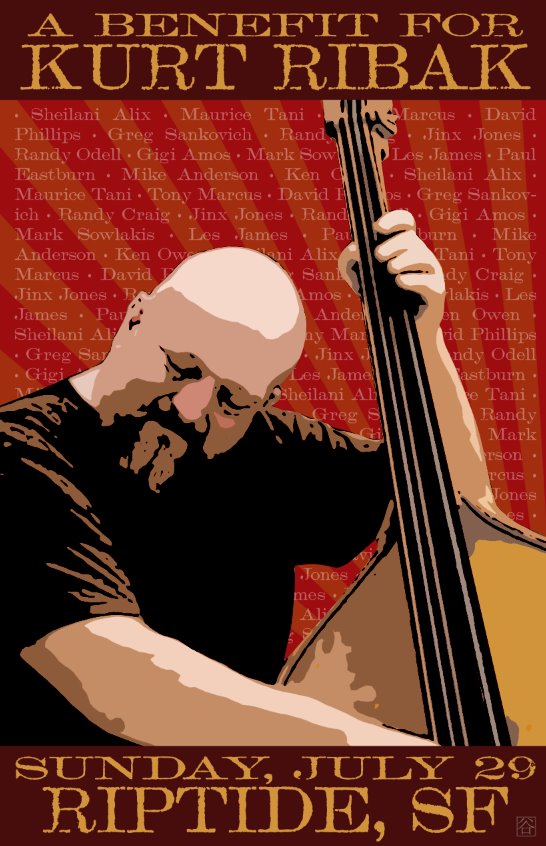 "...KURT'S ability to take you on a journey from the deepest waters of the Caribbean to the funky alleys of the urban jungle in one listening makes him a truly gifted original in my book."
Chris Cortez, KCSM FM

Gig Mailing List
To join my mailing list, you are welcome to click on SubscribeGiglist and include the address where you want to receive the mail in the body of the message. You are encouraged to mention how you heard of me.>
To get off the mailing list, just click UnsubscribeGiglist and include the address you want dropped from the mailing list in the body of the message.

site map page